When traveling, we HATED trying to find good coffee - stumbling upon good coffee is one thing, but stopping for lunch in the middle of nowhere and NOT having a good cup o' joe after the meal is UNTHINKABLE! So we have perfected what we think is the best method for making coffee on the road (easy prep, easy clean up, great coffee).
You need to use the best coffee - Cafe Mam - great people, great coffee, get the "Mocho" blend.
You need a "Moka" stove top espresso pot - I have found the Bialetti Moka Express to be a great one
You need to get a "Dosacaffee" - this makes filling your Moka mess-free. They are NOT the easiest things to find.
Here is an image of the Dosacaffee: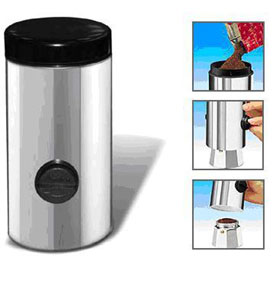 Grind up your beans before you leave (I know, fresh grind is better, but you do have to make SOME compromises on the road) - fill your Dosacaffee up, as well as a 1lb empty coffee bag (just pick one up at the local supermarket coffee grinding area). A full Dosacaffee and a 1 lb bag will last 2 people 2 weeks (2 pots per day).
When you are done with the Moka, just lay it in the sink for clean up later (if you in a hurry), or just wait a bit and empty the grounds out when the pot is cool enough to handle. The grounds will be VERY dry, and just a little water is all it takes to clean up. Way easier than using a French Press.
BTW - the best "stumbled upon" coffee experience for us was finding the Kiva Koffeehouse outside of Escalante, Utah - amazing place, great people, good coffee, good food, great local crafts for sale.